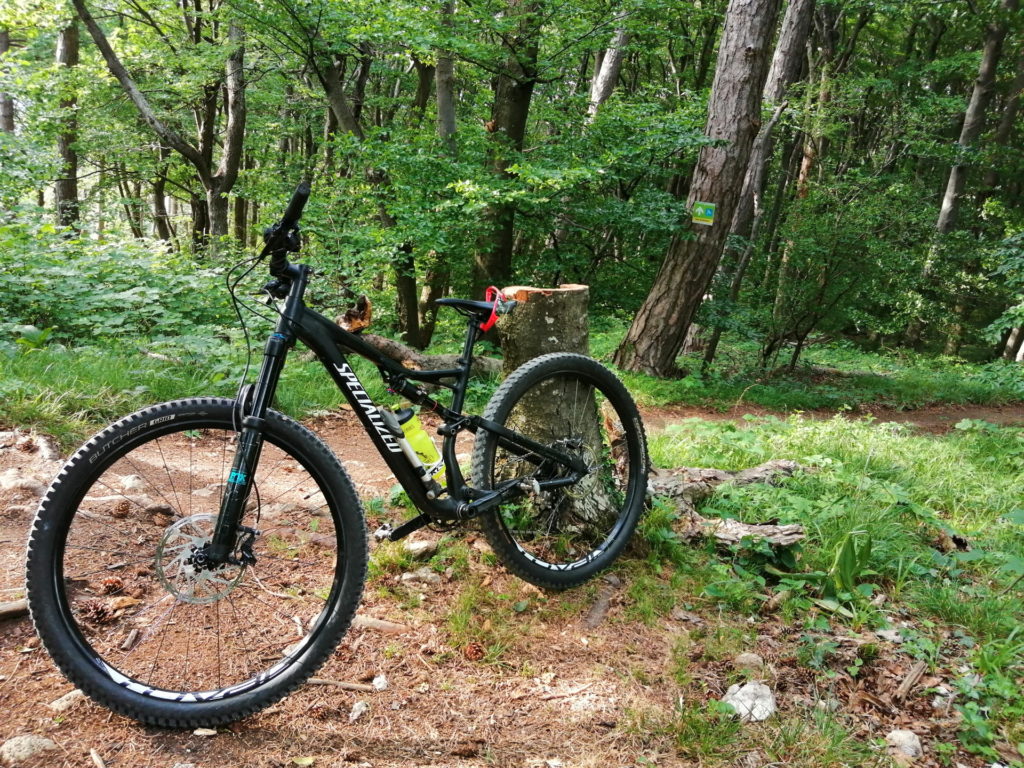 Steep downhill sections and built courses can be harsh for a mtb. In the Mecsek I often thought about a less racy machine. However 90 % of the roads were enjoyable. Last year I explored my new hometown and it's surroundings and I found life beyond XC riding
A made a couple of bike park visits. And the laps were fun even with an XC bike. I decided to invest in a "big bike". Downhill bikes are not for me, because I like to cycle uphills too. Hard tail bikes are light, quick, but the limited amount of travel is not comfortable, when the front wheel leaves the ground. The relative weak brakes and smaller tires do not offer much self-confidence on steep terrain. And they don't have a big fun factor. 29er wheels are monster, I would not go for a smaller wheel again.
Buying a new bike was out of question. It takes a couple of years to save up enough money. I was thinking about, what if I build my own bike.
I have a lot of tools/ skills to make me own dreambike. But I didn't choose this option due to lack of parts/ framesize. The price of new bikes has exploded, and the second hand market followed it. Be the man on your feet, if you can find the right bike for you.
I followed the second hand market for approx. half an year. I wanted to buy a more comfortable road bike. Price, size, good parts should be there… You can't easily fish out such a bike. I found a sympathic bike, with good parts, but it was not maintained well. I have problems with the rear wheel and I can't find the problem. It has a strange noise, and it could mean a lot if things. Bad ball bearings, broken frame, slightly bent tooth etc. The bike was not expensive, but this noise is killing me.
The Austrian second hand market is much worse than the Hungarian. I wanted to buy a microphone for GoPro. One of the sellers wanted to sell the product for the original price. He later wrote me back that he sold it for more than that. Is the buyer bargaining the price up?! Returning to the mtb question. I found an M Specialized bike in Vienna. I am a Specialized fan for over 10 years. They won me with their comfortable saddles. So I paid special attention to it. They had a bike on the palette that could suit me well (140-160mm travel). I would look stupid on an enduro bike with skin suit, and I am not an experienced AM rider. I could not use the 160 mm travel. Thus 29er bikes are rare above 150mm.
A Belarusian guy had a black-painted Stumpjumper bike in the right size. I took his bike for a small test ride. He said a relatively good price for it, so I decided to try my luck. The bike was really dirty. I needed two afternoons / evenings and a lot of cleaning, but after that, after assembly / adjustment, it looked and felt like a different bike. I think that the invedted time and energy paid out well. And the crackling sound also disappeared. There was a half forest in the casette. The rear derailleur rollers were in a bad shape too. I was a little worried about the rear shock, but it looks like fine. I just had to inflate to operating pressure. One issue: the bike came with a dropper post, and it was too long for the frame. I'm on the verge of S / M size, so it's interesting that the factory seatpost was too high for me. I don't even know how he could ride with that thing. Poor bike, it really needed a better owner. 😊 The Fox fork which one I bought earlier is very sympathetic. I think I will also replace the Rock Shox on my other bike with a Fox next year. Fortunately, this bike is almost fully compatible with the other. This way, if one part is damaged, it can be transferred from another.
My first riding experiences are: there is not much similarities between that and my XC race bike. Brutal speed can be achieved and maintained. It feels like heaven and earth. Cornering is much more comportable. I had to learn how to go with that bike. I can use and hold different lines. The full suspension makes life easier in the downhill sections. 4 piston break are wonderful. I hope that I can try this bike in a park as soon as possible. I really want to go back and learn how to jump properly.