Prologue:
I did this race back in 2019. It was my first race in the saddle of a 29er bike. I tried to complete 2 rounds, but I got a flat in the first one. I repaired it and continued, got a second flat and I ended up in a car. Which was good, because walking back to the start is time and energy consuming. After a couple of years of break I decided to finish the unfinished business. I got my hands on a rigid fork, and this race was its debut. It was really fast on smooth terrain so I gave it a chance.
Location & Date:
Ropolypuszta
22.04.2023 Saturday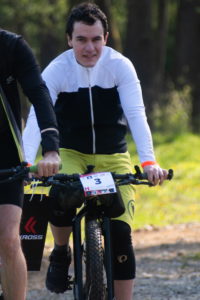 Equipment:
Specialized Epic HT rigid with a small dropper post. Camelbak with 2l of water to make less pit stops, some food, and a couple of tools in case of a bike emergency.
Tactics:
Finishing the race in time.
Experience report

:

The car trip wasn't idillical at all. 2 °C temperature, miserable and bumpy roads. There were heavy rains on the week before the race. In the beforenone the temperature was better, this was my first in shorts. The course has a figure of eight. You cross the finish line before going to the second part. The course wasn't muddy, because the top was dried out. But below the surface everything was spongy and riding on it wasn't effortless. I tried my best, but I wasn't quick enough to finish the race. 1) I wasn't in shape so early in the season, 2) the mudcake below the surface made things difficult, 3) I installed a new saddle it was really uncomfortable und it wasn't supporting my butt at all, 4) this was the first good weather day in the year, I was getting hot. Even if I didn't make the mistakes, I think the course was too muddy to finish in time. Rigid fork wasn't forgiving either. It is good for gravel riding, but you need a fork for proper terrain. And I never want to see this saddle again.
After 2,5 laps I got a DNF. This marathon was really difficult. I might give try next year. There is also an ebike race. If I can't sell my ebike, I might attend it. But two laps with a small battery pack wouldn't be easy at all! It is really on the limit, and you need to do some energy management during the race.
Anyways next week I continue my adventures in Austria!
Conclusion:
It was a really nice race, but you have to be a really strong rider to finish the long distance in time! It would have been challanging even without the mudcake!
Recommendation:
Everyone, who likes to be in the nature, to do some mud wrestling, and can live without GSM signal. The start/finish area is pretty remote, but beautiful!