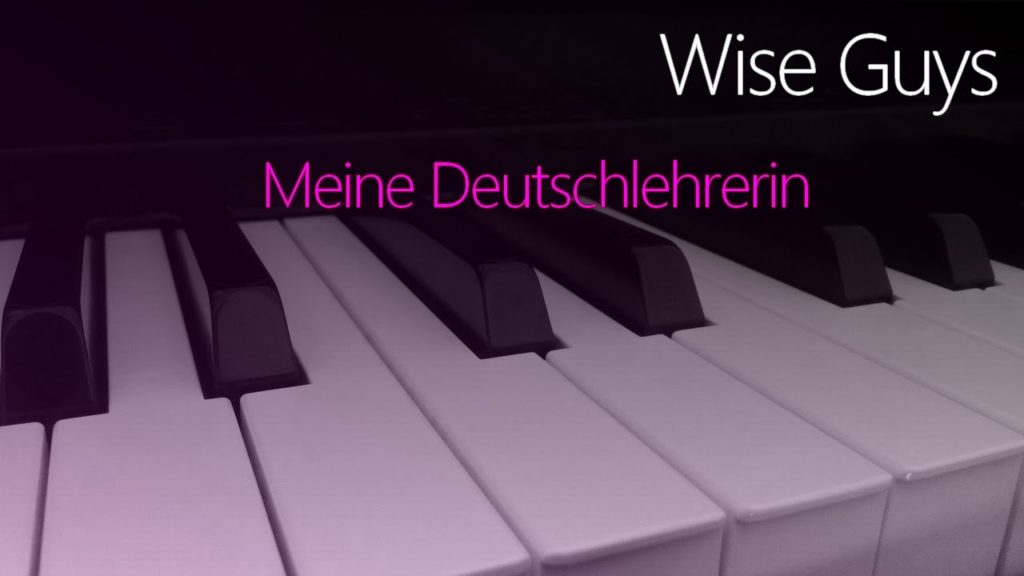 The post was inspirated by Wise Guys – Meine Deutschlehrerin song . This German band is really unique. They don't use any specific instruments. They make every sound with their bodies. When I was learning actively German, I often listened to their music. One of their songs is about the German teacher:
Denk ich an damals zurück
Bin ich noch immer völlig hin
Dann merke ich, dass ich auch heute nochVerliebt in sie bin
Sie war ne wunderbare Frau
Mit schulterlangem blondem Haar
Sie war die Frau, die wo für mich
Die allereinzigste war
Sie war für mich von Anfang an
So wundervoll gewesen
Sie lernte mir das Schreiben
Und sie lernte mir das Lesen
Ihre Haut, weicher wie Samt
Und sie war ne richtig Schlanke
Nein, ich werde nie vergessen
Was ich sie verdanke!
Ich liebe ihr noch immer
Sie raubt mich heute noch den Sinn –
Meine Deutschlehrerin
Ich mache nie Prognosen
Und werds auch künftig niemals tun.
Doch ich habe mir geschwört:
Ich werd nicht eher ruhn,
Als bis wenn ich sie mal endlich
Meine Liebe gesteh,
Weil ich durch das, was sie mich lernte,
Die Welt viel klarer seh.
Sie war so gebildert,
Sie war so unglaublich schlau
Weil sie wusste wirklich alles
Von Betonung und Satzbau.
Sie war ne Frau, die wo so
Unbeschreiblich kluge Dinge
Wusste, dass ich sie als Dank dafür
Den Liebeslied hier singe.
Ich liebe ihr noch immer,
Sie raubt mich heute noch den Sinn:
Meine Deutschlehrerin.
Sie war die erste große Liebe,
Die Liebe meines Lebens.
Doch ich kam zu spät, denn sie
War leider schon vergebens.
Eines Tages ist sie mit dem
Mathelehrer durchgebrennt.
Diesen Typen hasse ich dafür
Zu Hundertzehn Prozent!
Aber ihr lieb ich noch immer,
Sie raubt mich heute noch den Sinn:
Meine Deutschlehrerin
Meine Deutschlehrerin
When I think about the past,
Then I still get the chills
Then I realize, that even today
I am in love with her.
She was a beautiful woman
With a shoulderlong blonde hair
She was a woman, that so for me
Was the very only
She was from the beginning
Been so wunderful
She learned me the writing
And learned me the reading
Her skin, softer than velvet
And she was a really thin
No, I will never forget
What I can thank her for!
I still love she
She steals mine mind till today –
My German Teacher
I never make forecasts
And won't ever make them
But I sworn to myself
I will not rest
Until when I will
Confess her my love
Because through that, what she learned me I can see the world clearer.
She was so educated
She was so unbelievable smart
Because she knew everything
About emphasis and syntax.
She was a woman, she so
Undiscribeable clever stuff
Knew, that I as thanks
This Love Song here sing.
I still love she
She steals mine mind till today –
My German Teacher
She was the first great love
The love of my life
But I came too late, because she
Was already paired
One day she
Ran off with the Math Teacher
That guy I hate for that
With 110%
But I still love her
She steals mine mind till today –
My German Teacher
My German Teacher
The song is funny and its performance is refreshing. Btw, ~18 grammatical errors are hidden in the text. Good luck for finding all of them. I copied the English lyrics from here.
I have been learning German since my childhood. The word "die Giraffe" lives in my head ever since. As a child, one can learn much more easily due to the "childhood curiosity". I didn't choose German. It was my brothers idea. There are slightly more German-speaking countries near Hungary than English-speaking. My German-Carreer continued in the elementaty school. I had two different German teachers for the first half of school and for the second half of school. I wasn't a talented kid. I had good imagination and patience for things. I always got very good German teachers. Presumably that's why I merged into languages later. In the high school I was a lot more better in German than my classmates. And my teacher was really kind and she always gave me extra assignments. It is not a coincidence that I achieved 94% on gradiation.
After that I took apart on a language exam. I failed at first. This was not an easy task. Obviously you have to compare a person's language skills to a standard. But I think the language exam does not measure an individual's knowledge. Its all about practicing exam tasks. After the indermediate level I made a next step towards the advanced C-level. The exam was held in Budapest. The company, where I worked, offered extra money for a succesful exam. I looked around on the internet and I picked the cheapest exam. They gave a given amount of money for the exam, for profit maximization I choosed Telc.
In short: this C-level exam is not related to the B-level. The exam was 4-4,5 hours long. I spent this time on an uncomfortable chair. The tasks were difficult, I had to concentrate for the whole time period. It wasn't easy to pass on this exam. Later on I have/had a plan for foreign studies therefore I wanted to have a recognised language exam in my pocket. Unfortunately the Telc was not recognised. I tried 3 times 3 different tests. I always failed because I lost 1 or 2 points more than I should have. Now I am in the resting phase. I might try it once again, I might not. I was pretty frustrated, because my knowledge was quite good.
Conclusion: If you don't want to hate language learning, choose a German teacher and if you don't need a C-level language exam, don't do it. It's better to reach a communication (intermediate) level in an another language than getting a brain cancer trying to reach a C-level in a language. It won't make you happy IRL.